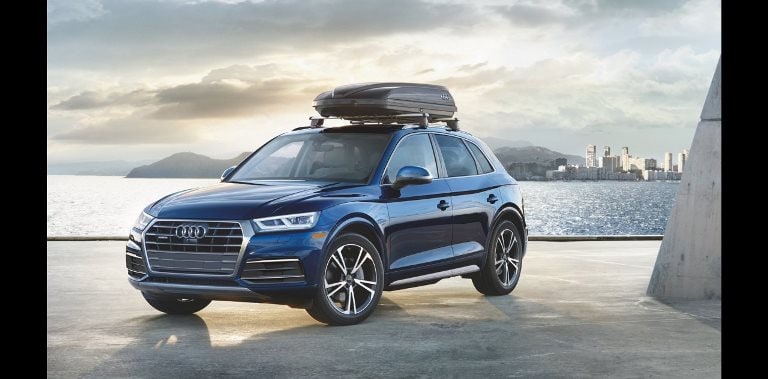 There is a lot of consideration to be taken when picking out the ideal car for camping or any of the other outdoor excursions you might be planning. The good news is that we have an excellent assortment of new Audi cars at our Audi Indianapolis that are just right for helping you get where you need to go this summer and beyond. All you have to do is come by to talk with our sales team and we will be happy to help you find the right car for camping, hiking, road tripping, and more!
2019 Audi Q5
There is a lot to love about the 2019 Audi Q5, including the Connect feature that gives you access to gas pricing, weather conditions, news, and travel information all from your dashboard. When it comes to off-road adventures or a road trip that takes to you parts unknown, you will also have the convenience of Audi Drive Select. This feature is great for helping you to adjust your throttle, transmission, and steering of your Audi as you navigate the roads.
If that is not enough, the interior of the new Audi Q5 lends to plenty of room for passengers along with any of the gear that you need to pack up and take with you for your adventures. This is seating for up to five people along with 57.3 cubic feet of cargo space when you have the rear seats folded down. Want to know more? We encourage you to come by to see us at Audi Indianapolis so that we can have you take this vehicle or another Audi car just right for outdoors adventures out for a test drive.
Take some time to talk with our staff about what you like to do for adventures and we can help match you to the perfect ride at Audi Indianapolis located at 4610-B East 96th Street in Indianapolis, IN. Give us a call in the sales department at (888) 378-3080 for more information on buying or leasing.